illi-Langi The Rocks Aboriginal Dreaming Tour - Australian Primary & Secondary School Groups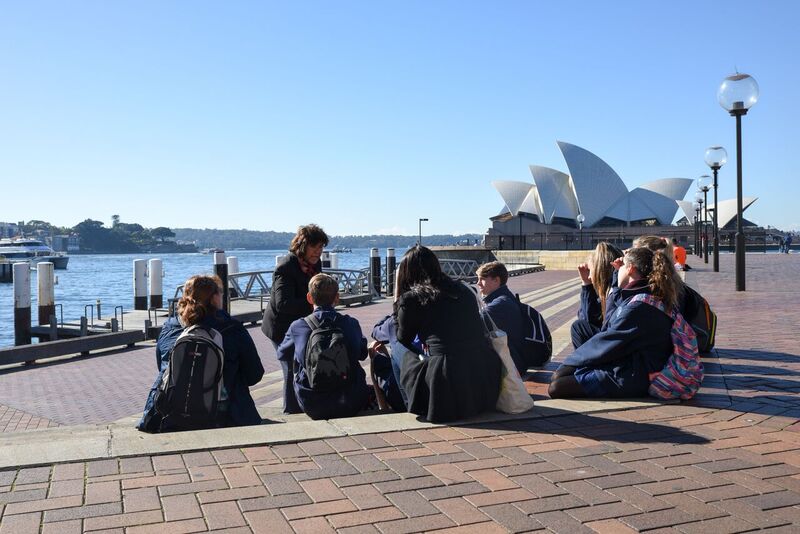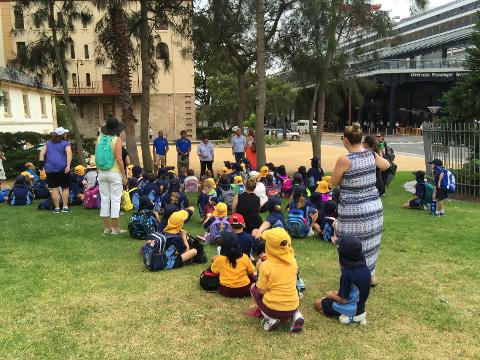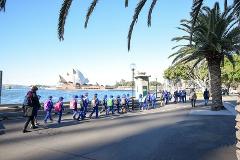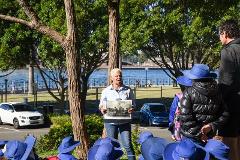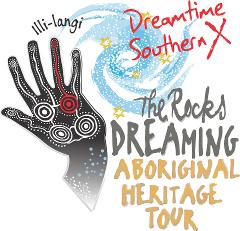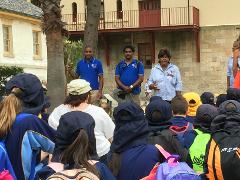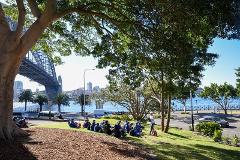 Dauer: 90 Minuten (ca.)
Produkt-Code: SCHOOLS TRDAHT
Be touched by the most ancient human culture on earth in a 90-minute leisurely walkabout with an Aboriginal guide in The Rocks Sydney, and journey into DreamTime, the culture of Aboriginal People.

illi-Langi The Rocks Aboriginal Dreaming Tour is 100 per cent Aboriginal-owned and was developed by Aboriginal Elder, Margret Campbell, a Dunghutti – Jerrinjah woman. It is led by Aboriginal guides who have her permission to share her cultural knowledge. The tour gives you the opportunity to discover how the ancient Aboriginal DreamTime is still alive within the modern Sydney landscape and how the billion-year-old harbour, marine environment, sandstone strata, waterways, flora and fauna and is geared for students learning such topics across school syllabus from K - 6 HSIE – Stages 1-3 and K – 6 History-
stages 1-3 Australian curriculum,
This 90-minute leisurely walkabout in The Rocks is a perfect introduction to Aboriginal Culture
showing a perspective of Sydney that is touching, enlightening, and very informative.

Key experiences
Experience a local Aboriginal greeting and learn some of the language spoken
Meet knowledgeable Aboriginal guides
Participate in a Sydney cultural acknowledgement of Earth Mother using her ochre (traditional paint)
Opportunity to handle cultural objects and materials
Learn about the Aboriginal DreamTime, it's origin, history and culture
Understanding the connection between modern Sydney and the Aboriginal Dreaming.
Itinerary Features
· Cadman's Cottage – the meeting point for the tour, which begins with an introduction, acknowledgement
to Country and an ochre activity.
· Bligh and Barney Reserve – using seasonal native flora and fauna, the tour focuses on
natural resources and purposes/uses of lilly pilly, cabbage palm tree,
casuarina, lamandra, braken fern, grevillia and Wollemi pine.
· Campbells Cove – offers amazing views of Sydney Harbour. Here, the tour focuses on the Aboriginal
saltwater lifestyle and the spiritual importance of the Aboriginal sites, such as the harbour, Opera House/ Bennelong Point and Circular Quay/Woccamagully.
· Argyle Cut – learn about the importance of Earth Mother's ochre (a natural paint), which exists in large clay pods on the wall of the Argyle Cut.
Group and school bookings are also available at a time that suits you. Please contact us for further information.
Dreamtime Southern X is proudly one of Tourism Australia's / Indigenous Business Australia's "Indigenous Tourism Champions Program" product suppliers. This elite group of product suppliers represent the best-of-the best Indigenous experiences in Australia. Additionally we are a member of The Australian Tourism Export Council (ATEC), a certified member of Supply Nation (Aboriginal Corporate Association), Indigenous Chamber of Commerce Member and endorsed by the New South Wales Aboriginal Tour Operators Council (NATOC).
TERMS and CONDITIONS
March 17th 2020 Update: Valid while Australia is experiencing Covid-19
If you are unwell, our usual cancellation policy will not apply. Instead a voucher will be issued (valid for 3 years) so you can re-book at a later date. Please let us know as soon as possible via phone (+61 2 8394 9940) or email bookings@dreamtimesouthernx.com.au
If you are unwell and will not be attending your booked tour. If you will not be in Sydney by the time you recover, please email explaining your circumstances and we will refund your tour booking in full.
-Check customer has downloaded the CovidSafe App
-Get customer contact details (address and mobile phone number) if they don't have App
-Maximum Pax 9 to 1 Aboriginal Guide (10 total)
-Will do 1.5 metre distancing
-Guide may take temperatures before tour starts
-Wash hands, use hand sanitizer after touching any surface
-Will Sneeze into tissue to maintain hygiene etiquette
-Cough into tissues or elbow
-Bring your own face mask
-Wear face masks if asked by tour guide